CITATION



Ronald Parker Sage, 1997 Goldich Medal Recipient



Ladies and Gentlemen:

It is my pleasure tonight to introduce to you Ronald Parker Sage, the 1997 recipient of the S.S. Goldich Medal. This is the 43rd annual meeting of the Institute on lake Superior Geology, and the 18th time the medal is being awarded.

I met Sam Goldich only once, and that happened many years ago at a conference on iron formations. From the discussions it became clear to me that he was one of the giants of lake Superior geology. In a heated debate the moderator asked "Does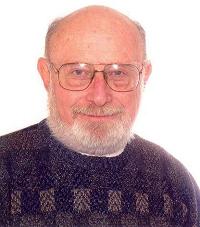 anyone wish to challenge Sam Goldich on this point"? There were no takers. In last years citation, Glen Morey compared Sam Goldich to the "Drill Instructor we see on TV ads for the U.S. Marine Corps", tough, expecting his people to perform at their best, yet a wonderful man.

Before I recite to you the many accomplishments why Ron the scientist is the worthy 1997 recipient of the S. S. Goldich medal, let me tell you about Ron the person.

Ron was born in 1938 in Pontiac, Michigan, the city where he also spent his childhood and youth.

In 1974, he married Carol Ann Raebiger from Philadelphia, and they have been happily married for 23 years. While many young couples travel for their honeymoon to the sunny beaches and warm waters on some exotic tropical island, Ron and Carol chose an exotic island of another kind, they travelled to Iceland, where there are glaciers, volcanic rocks, and no tourists. Ron and Carol have three teenage children, Douglas, Victoria, and Alexandra.

Ron first graduated in 1960 with a BSc degree in geqlogical engineering from Michigan Technological University in Houghton. While at MTU, Ron spent most of his free time collecting rocks and minerals in the copper and iron mining districts, earning him the nickname "Rocky". He was a student of Kiril Spiroff, the "Mad Russian", whom many of you will remember. Ron holds his Alma Mater in high esteem, his son Douglas is now enrolled there in a premedicine program, and daughter Victoria will follow next year to study Scientific and Technical Communications.

In the early 1960s, Ron worked for three years as Exploitation Engineer for the Shell Oil Company in west Texas. His duties included well sitting, well logging, well workovers, and other production related activities.

In 1966, Ron graduated with a Master's degree in Geology from the Colorado School of Mines. It was here that he was first exposed to alkalic rocks, his study topic and thesis being "Geology and Mineralogy of the Cripple Creek Syenite Stock, Teller County, Colorado". This led to employment with Anaconda American Brass Ltd to , investigate Cu-Ni-PGE minerals in the Port Coldwell alkalic complex near Marathon, Ontario.

During the summer of 1967, Ron searched for basemetals in the Ely Greenstone Belt in Minnesota for Bear Creek Mining. It was in that year that he first met two other greats of Lake Superior geology, Ned Eisenbrey and Gene LaBerge.

In 1969, Ron again worked for Anaconda American Brass Ltd, this time north of Lake Superior in the Schreiber greenstone belt, searching for gold and basemetals.

In the fall of 1969, Ron joined the Ontario Geological Survey, his professional home to this day. Ron's work for the OGS has taken him to many parts of the province, but never very far and never very long from lake Superior. He spent the first four years on a helicopter reconnaissance in Northern Ontario, then mapped the Slate Islands in lake Superior, and next worked on a multiyear program to study alkalic rocks north of Port Coldwell along the northern extension of the Trans Superior Tectonic Zone and along the Kapuskasing Structural Zone. In 1978, Ron was assigned to the Michipicoten greenstone belt. Here he spent 10 years mapping Archean supracrustal rocks over approximately 540 square miles, with emphasis on the gold and base metal potential. In 1993, Ron was assigned to a province wide program of kimberlite occurrences to stimulate diamond exploration. Some of this work was again in the Michipicoten area, where diamond indicator minerals are common.

Despite his busy professional schedule, Ron was able to complete his PhD degree in 1986 for a thesis submitted to Carleton University in Ottawa. The topic: "Alkalic Rock Complexes and Carbonatites of Northern Ontario, and their Economic Potential."